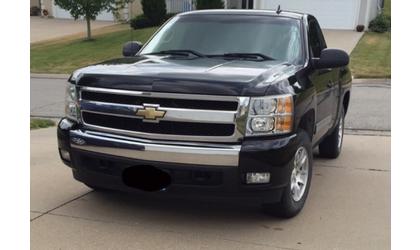 Submitted photo of actual 2007 Chevrolet pickup truck stolen Tuesday night in Atchison.
(KAIR)--A pickup truck, reported stolen this week, has been recovered.
According to a report from Atchison Police Chief Mike Wilson, the 2007 Chevrolet was recovered Thursday in Kansas City, Missouri.
The truck was stolen Tuesday night from the 800 block of south 7th Street after the owner momentarily went inside a residence after starting the truck to let it warm up.
The truck is reportedly in drivable condition, but did incur damage.
No arrests have yet been made in the case, as the investigation is continuing.
Anyone with information on the theft is asked to call Atchison Police at 913-367-4323.