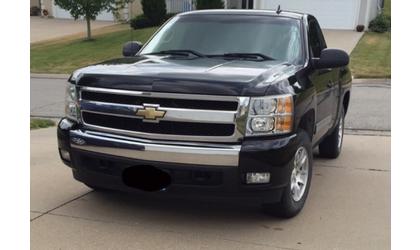 Submitted photo of actual 2007 Chevrolet pickup truck stolen Tuesday night in Atchison.
(KAIR)--Atchison Police are searching for a pickup truck, reported stolen Tuesday night.
According to a report from Atchison Police Chief Mike Wilson, the truck's owner had started the truck in the 800 block of South 7th Street, and then went inside a residence.
The truck was stolen a short time later, and the search to find its whereabouts has been ongoing since around 10:20 Tuesday night.
The truck is described as a black, 2007 Chevrolet.
Anyone with information regarding the whereabouts of the pickup truck is asked to call Atchison Police at 913-367-4323.