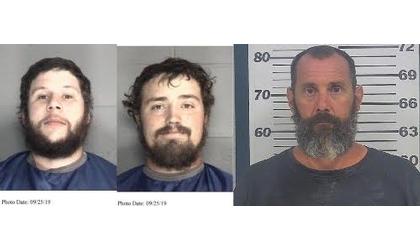 Left to right: Matthew Cole Scherer, Brian Spilman, Jr. (Credit: LV Co Sheriff's Office) and Scott Vandeloo (Credit: Platte Co Sheriff's Office)
(KAIR)--No change yet regarding the charges for three Atchison men accused of their roles in a fatal September fight on Doniphan County property.
A hearing was held October 31 in Doniphan County District Court for 44-year-old Scott Vandeloo, regarding a motion filed by his attorney seeking modification of Vandeloo's $150,000 bond.
Requested was lowering the bond to $50,000 or $75,000. However, the motion was denied, and Vandeloo remains jailed in the Leavenworth County Jail.
Vandeloo, along with 30-year-old Matthew Cole Scherer, and 22-year-old Brian Spilman Jr., are scheduled to make court appearances on November 19 in a Doniphan County courtroom.
All three remain charged with aggravated battery, although the Kansas Bureau of Investigation September 30 said charges were expected to be amended following the death of 42-year-old Jason Pantle.
Pantle, of Cummings, is identified as the victim of the early morning altercation that took place September 22 during a party held at 159 Monument Road, in Doniphan County.
Discovered by Atchison Police laying outside a residence on Atchison's Jayhawk Drive early that same morning, Pantle was transported for hospital care and died of what investigators called serious head injuries September 28 at the University of Kansas Hospital in Kansas City, Kansas.
Along with Vandeloo, Scherer remains jailed in Leavenworth County, held on a bond of $150,000.
Spilman is jailed in Doniphan County, and according to online jail records, his bond is set at $100,000, a reduction of his original $150,000 bond.
The Doniphan County Attorney's Office is prosecuting the case, which the KBI calls a homicide investigation.