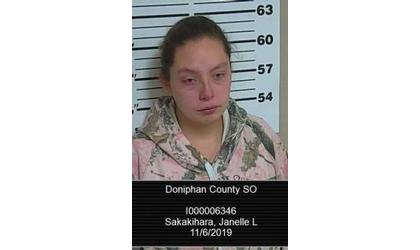 (KAIR)--A former nurses' aide from Atchison has been sentenced to two years in prison following her conviction on Medicaid fraud and related charges.
According to a news release from Kansas Attorney General Derek Schmidt, 26-year-old Janelle Lynn Sakakihara was sentenced Wednesday in Doniphan County District Court.
She pleaded no contest in July and was found guilty of one count of Medicaid fraud and two counts of felony mistreatment of a dependent adult.
According to the criminal complaint, the offenses took place while Sakakihara was employed at the Highland Healthcare and Rehabilitation Center.
According to the news release, the crimes occurred in September, 2017, and she was charged following an investigation by the attorney general's Medicaid Fraud and Abuse Division and the Highland Police Department. The investigation revealed that Sakakihara abused multiple residents at the care facility.
Sakakihara was among ten individuals in seven counties charged in September, 2018 as part of a statewide enforcement sweep by the Kansas Attorney General's Office.