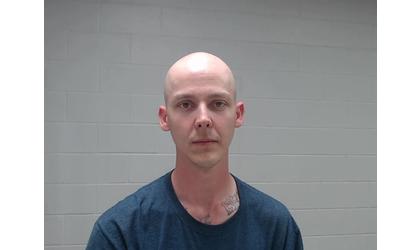 Matthew Hermreck/Credit: Atchison Co Sheriff's Office
(KAIR)--A jury trial is now set for an Atchison man who previously served time in prison for violent crimes.
32-year-old Matthew Hermreck on October 11 entered a plea of not guilty in Atchison County District Court to his latest round of charges which followed a June arrest for domestic violence.
According to the office of the Atchison County Attorney, the jury trial for Hermreck is scheduled for January 21.
According to Atchison Police investigators at the time of his arrest, Hermreck in May was accused of striking and choking a 36-year-old victim. Days later, it's alleged he again choked the victim.
He was arrested in June on Atchison County District Court warrants charging him with aggravated domestic battery, domestic battery, and criminal damage to property.
According to online Atchison County Jail records, he remains in custody on those charges.
He's held on a Kansas Department of Corrections warrant for parole violation, with a no-bond hold.
Hermreck was sentenced in December, 2012 to 7 ½ years in prison on a charge of attempted second-degree murder. The sentence, handed down in Brown County District Court, was in connection with what prosecutors said was the brutal beating of a Horton woman at her home. The victim in that case spent several weeks at the University of Kansas Hospital, in Kansas City, Kansas, following the attack. The victim's three-year-old daughter also suffered injuries that required hospital treatment.