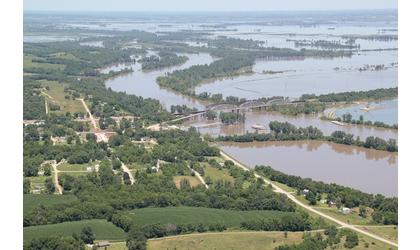 Flooding Near Rulo
(KLZA)-- Heavy rains in Northeast Nebraska and Northwest Iowa earlier in the week coupled with more rain that occurred in Nebraska later in the week and continued higher than normal release rates into the lower Missouri River basin means the Missouri River is on the rise again.
At Rulo the river reading Friday morning was 18.75 feet, with a prediction of the river rising to 21.4 feet by Saturday, September 21. Flood stage at Rulo is 17 feet.
At Brownville where flood stage is 34 feet, the river reading was 35.7 feet Friday morning. The National Weather Service is predicting the river to rise to 38.3 feet by early evening on Friday, September, 20.
At Nebraska City the river reading Friday morning was 18.86 feet, which is less than a foot above the 18-foot flood stage, but the prediction is for the level to reach 20.9 feet Thursday, September 19.