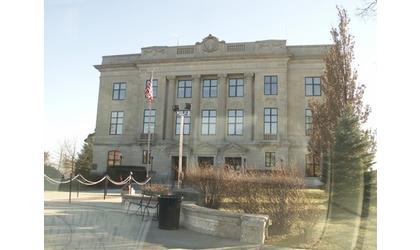 Brown County Courthouse
(KNZA)--A rural Sabetha resident meet with the Brown County Commission Monday to voice his safety concerns about old 75 Highway.
Steve Lukert said he was like to see the three-mile stretch of road, which runs from U.S. 36 north to the city of Sabetha, striped down the middle.
Lukert, who lives along the road, said its hard to see at night what side of the road you are driving on and believes there could be a head-on collision if something is not done.
Currently, Brown and Nemaha Counties share responsibility for maintenance of the road.
Commissioner Dwight Kruse voiced concerns about the precedent it would set, if the county were to stripe the road.
Commission Chairman Keith Olsen said he would like to talk to the county's insurance carrier first to see what liability the county would assume.
Lukert said he also plans to visit with the Kansas Department of Transportation and Nemaha County Commission about the issue.
In other business, bids were opened for the replacement of a tube on 260th Road, south of Prairie Road.
The Commission voted to accept a bid from Welborn Sales, of Salina, for a 84 by 50-foot aluminized tube in the amount of $6,342.
Bids were received from three companies.