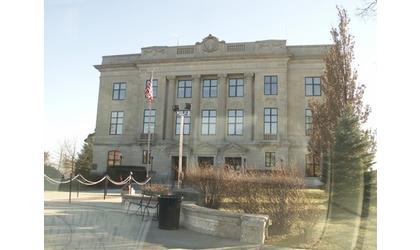 Brown County Courthouse
(KNZA)--The Brown County Commission has approved the purchase of a new pickup truck for the District 2 road and bridge crew.
The Commission Monday voted to accept a bid from Hiawatha Ford for the purchase of a 2019 F250 extended cab pickup in the amount of $28,375. It does not include a trade-in.
Bids were received from three dealerships for both a regular cab and extended cab pickup.
In other business, the Commission voted to advertise for sealed bids for the replacement of a culvert on Kingfisher Road in District 2 that was washed out by flood waters this spring.
The bids are to be opened August 5.
County Treasurer Cheryl Lippold informed commissioners her office had sent out 1,000 delinquent tax letters July 1. The delinquent tax list will be published in the newspaper August 1.
The Commission also reviewed applications received for the emergency management director position.
Three applicants were selected for interviews next Monday.
The position came open last month after the Commission voted to terminate James Stuart. He had held the position since April 22.