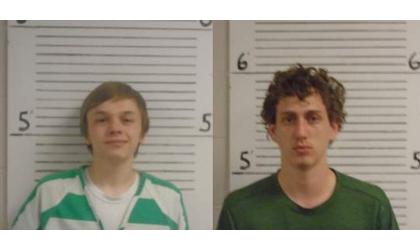 Andrew Makie&Peter Edelman/Credit: Nemaha Co Sheriff's Office
(KNZA)--Two individuals were arrested over the weekend in connection with several vehicle burglaries in Sabetha.
Sabetha Police Chief Robert Wahwasuck told MSC News that 22-year-old Andrew Makie, of Hiawatha, and 19-year-old Peter Edelman, of Sabetha, allegedly entered into and removed property from several vehicles throughout Sabetha Saturday evening.
Wahwasuck said a witness was able to identify both men.
Makie and Edelman were taken into custody and booked into the Nemaha County Jail on charges of burglary and attempted burglary.
Wahwasuck said the investigation into the case remains on going as more possible victims come forward.