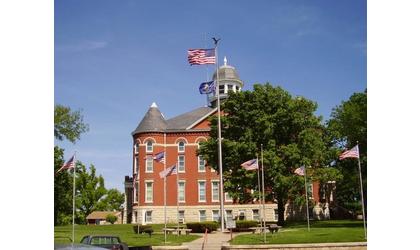 Doniphan County Courthouse In Troy
(KNZA)--Representatives of Waste Management met with Doniphan County Commission Monday to discuss the termination of their agreement with the county for operation of the Doniphan County Transfer Station.
The Commission was notified last week of the company's decision to terminate the agreement, effective October 31, 2024.
Mike Hey, Area Manager of Disposal Operations for Waste Management, said the decision was a matter of economics.
Hey said they would continue offering trash hauling services to county residents. In addition, he said they would be interested in entering an agreement with Doniphan County for continued operations of the recycling program, upon termination of the transfer station agreement.
Doniphan County would also have the option of retaining possession of the scale and scale house at no cost, otherwise Waste Management would remove them at their expense.
According to the unofficial meeting minutes, Commissioners took no action pending further discussion.