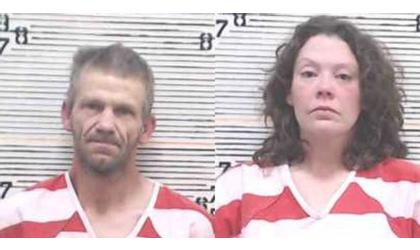 Jeremy Green and Charlott Erickson ( Credit: Brown Co Sheriff's Office)
(KNZA)--Two Horton residents were arrested on drug charges after a search warrant was served on a Horton residence late Tuesday evening.
Brown County Sheriff John Merchant, in a release, said the Sheriff's Office Drug Task Force executed the search warrant at 310 East 7th Street shortly after 11:00.
Suspected methamphetamine, marijuana, grinders, needles, syringes, pipes, torches, bongs and other items were seized as evidence during the search.
45-year-old Jeremy Green and 33-year-old Charlott Erickson were arrested on charges of possession of meth, possession of marijuana and possession of drug paraphernalia.
Following their arrest, both were booked into the Brown County Jail.
The Horton Police Department and Kickapoo Police Department assisted in the case.