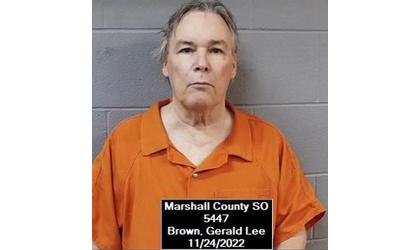 Gerald Brown ( Credit: Marshall Co Sheriff's Office)
(KMZA)--The arraignment for a Marysville man accused of killing his wife on Thanksgiving Day 2022 has been postponed again.
Gerald Brown had been scheduled to appear in Marshall County District Court Tuesday on a charge of first-degree murder, but a judge granted a request for a continuance.
The arraignment hearing was rescheduled for August 1.
Authorities responded to a 911 call early November 24 at the couple's home at 1070 Granite Road, in Marysville, where they found 57-year-old Jennifer Brown dead from apparent gunshot wounds. Gerald Brown was taken into custody at the scene.
He remains in the Marshall County Jail, held on a $1 million dollar bond.