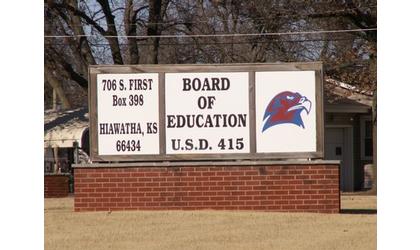 (KNZA)-The Hiawatha School Board heard an update on the bus fuel issue when they meet Monday evening.
Earlier this year, water had gotten into the underground fuel tanks at the bus barn, causing expensive bus repairs.
District Maintenance Director Chris Morey said the district is no longer taking fuel from the tanks, but are fueling up at Ag Partners on a temporary basis. He said the arrangement has been working well.
Morey said there is an 8-cent a gallon price difference between filling up at Ag Partners and having it delivered. The district uses about 16,000 gallons of diesel fuel a year and about 5,000 gallons of gasoline.
Meanwhile, Morey investigated the cost of removing the underground tanks and replacing them with two above ground tanks. He said a Kansas City company estimated the cost at $173,000 to $193,000 for the entire project. The district would be responsible for disposing of the tanks.
Following discussion, the board directed Morey to look into whether fueling up at Ag Partners is a long-term option, and compare that against adding the above ground tanks.
Even if its an option, the district would still have to remove their fuel tanks because EPA regulations don't allow abandoned tanks.