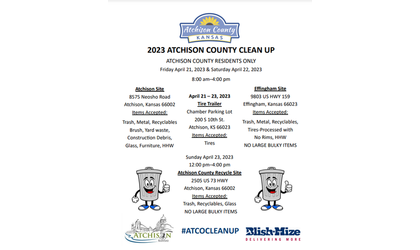 (KAIR)--Atchison County is planning to host its first county-wide clean-up next month.
According to a release from the County, it- set to happen starting Friday, April 21 to Sunday, April 23.
Atchison County Solid Waste Manager Staci Waggle, in the release, says she is excited to take part in the weekend-long event, with extended services and hours to be offered to assist residents with cleaning up the County.
Those hours and services include being open that Friday at the Effingham site, located at 9803 US Hwy 159, from 8 that morning until 4 that afternoon. Trash, metal, recyclables, household hazardous waste, as well as tires (processed with no rims) are accepted at the Effingham location.
Also being offered is a tire trailer in Atchison, and a special Sunday afternoon trash drop-off in Atchison.
Atchison County is also accepting tires, with or without rims, at the Atchison Area Chamber of Commerce parking lot located at 200 South 10th Street, in Atchison, beginning that Friday.
In addition to the standard acceptance of recyclables and glass, trash is also accepted at the Atchison County Recycle Site, located at 2505 US Hwy 73, Atchison, specifically from noon to 4 pm on Sunday, April 23. No bulky items or furniture will be accepted. The Atchison Site, at 8575 Neosho Road, accepts trash; metal; recyclables; brush and yard waste; construction debris; glass; furniture, and household hazardous waste from 8 am to 4 pm daily, Monday-Saturday.
The public is encouraged to post pictures to social media and include the hashtag #ATCOCLEANUP.
Atchison County Commission Chair Casey Quinn, in the release, said she is happy to partner with others in Atchison County and hopes the April 21 to April 23 clean-up will become an annual event.