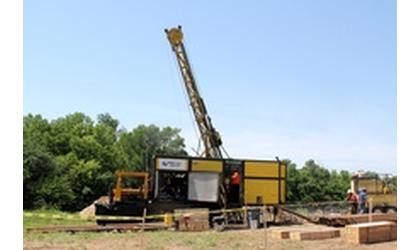 NioCorp drill rig at Elk Creek
(KLZA)-- NioCorp Developments Ltd. is pleased to announce that its stock began trading on the Nasdaq Stock Market Tuesday under the ticker symbol "NB."
A class of NioCorp warrants also is trading on the Nasdaq under the ticker symbol "NIOBW."
NioCorp's shares will continue to trade and will be cross-listed on the Toronto Stock Exchange under the ticker symbol "NB."
Mark A. Smith, Executive Chairman and CEO said The listing gives NioCorp a more robust platform for both institutional and retail investors, and is expected to significantly raise NioCorp's global visibility, and that of the Elk Creek Critical Minerals Project.
In connection with the completion of the Company- previously announced business combination with GX Acquisition Corp. II, and the beginning of trading on Nasdaq, the Company also effected a share consolidation of its issued and outstanding Common Shares on the basis of one post-Consolidation Common Share for every ten pre-Consolidation Common Shares. NioCorp's opening share price on both the Nasdaq and TSX on Tuesday, March 21, 2023, reflects the Consolidation.
The number of shares held by NioCorp investors as of the close of trading on March 20, 2023, were adjusted to one-tenth of their previous holdings, to reflect the Consolidation.