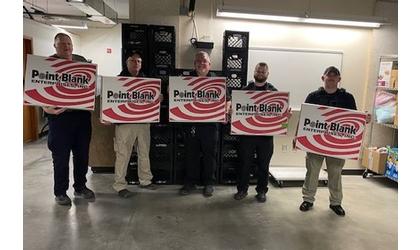 ( L-R)-Safety Resource Officer JD Clary, Sheriff John Merchant, Investigator Rich Rockwell, Sgt. Jared Pickman and K-9 Sgt. Trevor Fee ( Credit: Brown Co Sheriff's Office)
(KNZA)--The Brown County Sheriff's Office recently received bullet-proof vests, donated by the United States Deputy Sheriff's Association ( USDSA).
Throughout the years, Sheriff John Merchant, in a release, said the USDSA has provided many dollars in equipment and training not only to the Brown County Sheriff's Office, but many other law enforcement agencies throughout the United States.
He said the USDSA has also provided many training opportunities such as active shooter and self-defense techniques to name a few.
In addition, USDSA also provides monetary donations to the beneficiary of any law enforcement officer in the United States who gives their life in the line of duty.
" USDSA is a much needed law enforcement partner in today's society, and I appreciate their ability to help underfunded law enforcement agencies obtain much needed safety equipment at no charge." Merchant said.