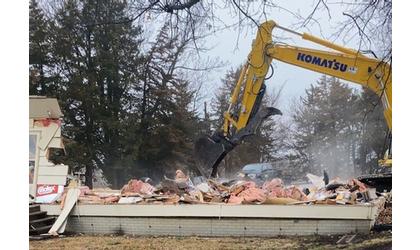 Old Horton hospital business office demolished ( Credit: Cathy Nigus)
(KNZA)--Demolition of the buildings on the old Horton Hospital property has begun.
Atchison-based Amberwell Health, who owns the property, hired Madget Demolition, of St. Joseph, Missouri to demolish the structures.
A crew removed all the asbestos from the structures in preparation for demolition.
The old hospital business office was demolished Wednesday morning.
Since the hospital closed in March 2019, the buildings have set empty. Hopes were to have a business take over the property, but due to the condition of the buildings no interest was expressed.
The hospital, which was built in 1964, employed 40 to 50 when it closed.