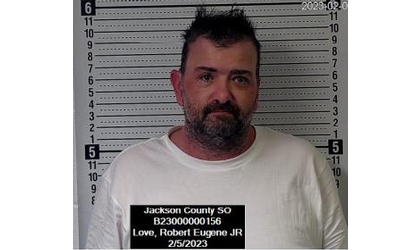 Robert Love, Jr. ( Credit: Jackson Co Sheriff's Office)
(KNZA)--An Auburn, Kansas man, charged in connection with a 2021 Jackson County wreck that claimed the life of a Topeka woman during a law enforcement pursuit, has been bound over for trial.
According to court documents, 44-year-old Robert Love, Jr., was bound over on five felony counts following his preliminary hearing last week--including first-degree murder, two counts of aggravated battery while driving under the influence, aggravated battery and fleeing or attempting to elude a law enforcement officer.
In addition, Love is charged with five misdemeanor counts and four traffic infractions.
Arraignment was set for April 28 in Jackson County District Court.
The charges were filed last November following an investigation by the Kansas Highway Patrol into a two-vehicle wreck on May 27, 2021 at the intersection of 286th Road and U.S. 75 Highway about 7 miles north of Holton.
The Patrol reports Love was westbound on 286th Road, fleeing from a Jackson County Sheriff's deputy, when he failed stop at the intersection and his car collided with a southbound SUV on U.S. 75.
A passenger in the SUV, Shai Boyd, was pronounced dead at the scene.
Four others, including Love, were injured in the wreck.
Love remains in the Jackson County Jail, held on a $750,000 bond.