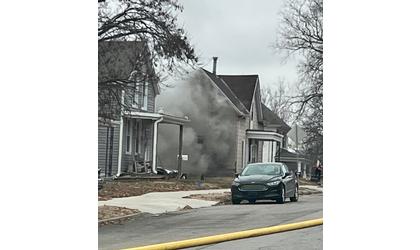 Credit: Tom Kautz
(KAIR)--A late Tuesday morning fire has left an Atchison home uninhabitable, but no injuries are reported.
Atchison Firefighters were called to 1016 Kansas Avenue around 10:15 where, Atchison Fire Chief Patrick Weishaar, in a release, says they "found the west side, one story addition of a 2-story home, engulfed in flames," with the design of the structure allowing the fire to spread to the 2-story, center portion of the home "making it difficult for [fire] crews to reach."
According to Weishaar, firefighters were able to make their way to the second story, where they accessed the attic, with the fire "able to be contained but had spread to an additional add-on of the home, to the east and south sides."
After battling the fire for over 2-hours, as temperatures hovered in the teens, Weishaar says it was finally able to be fully extinguished.
All of the home- occupants were able to escape without injury, but Weishaar says "it was reported that some family pets were lost."
The family is receiving assistance from the Atchison Salvation Army.
The investigation into the cause of the fire is continuing.
The Atchison Police Department and Atchison County EMS assisted at the scene.