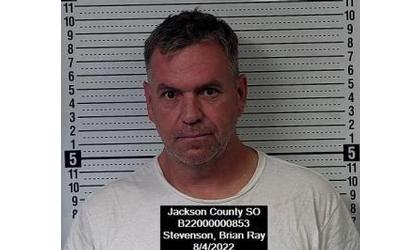 (KAIR)--The July theft of a skid-steer loader from a Holton business leads to an arrest.
According to a release from Jackson County Sheriff Tim Morse, 50-year-old Topeka resident Brian Ray Stephenson was arrested Thursday on a Jackson County District Court warrant for felony theft and possession of methamphetamine.
Morse explains that his office was notified around 5:45 on the morning of July 21 that the Volvo skid-steer loader had been stolen from Holton, leading deputies and detectives to begin their investigation into the theft. By that evening, it was recovered in Jefferson County, near the community of Rock Creek, off of Butler Road. The skid-steer was found hidden in a wooded remote part of the property. Also recovered at that time, according to Morse, was a Doolittle trailer that had been used in the skid-steer loader's theft. That trailer had earlier been reported stolen in Holt County, Missouri.
The release from Morse notes that the investigation remains open "and further arrests are anticipated."
The Jefferson County Sheriff's Office, the Kansas Highway Patrol, and the Topeka Police Department all assisted the Jackson County Sheriff's Office with the case.