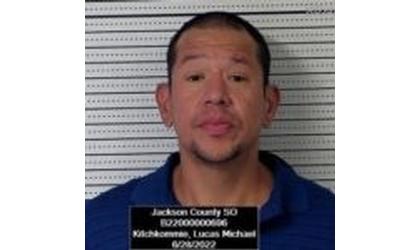 (KNZA)--A Mayetta man is jailed in Jackson County following a vehicle pursuit Tuesday evening.
Jackson County Sheriff Tim Morse said the sheriff's office received a report of a possible intoxicated driver driving reckless northbound in northern Shawnee County on U.S. 75 Hwy in a black Kia.
Shortly, after the report, Morse said a Jackson County Sheriff's Deputy observed the vehicle northbound on U.S. 75 in southern Jackson County allegedly travelling at speeds in excess of 100 mph.
Eventually, a pursuit ensued and the vehicle headed westbound on 158th Road. The pursuit headed south near L. Road. The suspect vehicle continued to evade law enforcement driving through yards at an area apartment complex.
Morse said the pursuit ended on Buffalo Drive where the suspect, identified as 42-year-old Lucas Kitchkommie, was taken into custody.
Kitchkommie was booked into the Jackson County Jail on charges of aggravated assault on law enforcement, reckless driving, fleeing and eluding law enforcement, driving under the influence, driving while suspended, criminal littering, and interference with law enforcement.
The Prairie Band Potawatomi Tribal Police and the Kansas Highway Patrol assisted.