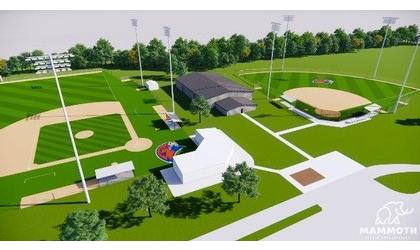 Proposed Hiawatha Championship Sports Complex at Noble Park
(KNZA)--The Hiawatha City Commission was updated Monday evening on the plans for an indoor practice facility at Noble Park—the first phase of a three-part plan to create a baseball and softball complex.
Troy Kolb and Keith Erdley with the Hiawatha Baseball and Softball Club presented the update.
Kolb said they've had great support from the community and have raised enough funds to order materials, with construction of the building scheduled this fall.
Kolb requested an amendment to their lease agreement with the city, granting them a one-year extension until June 30, 2023 to complete fundraising efforts for the building. Commissioners voted to have City Attorney Andy Delaney draft an updated lease for their approval.
Kolb also requested the city provide the labor to extend water and sewer service to the building site and waive the tap fees for both. He said the group would provide the materials. The Commission approved both requests.
Kolb said the group has been granted 501C3 status and want to start writing grant applications to move forward with the 2nd phase of the project---a softball field.
He said they want to locate the softball field in the open area south of the Legion Field and the new indoor practice facility.
Kolb said they would like a formal commitment from the city for the grounds to be available for the softball field, with a 5-year window to acquire the grants and matching funds.
Mayor Bill Collins indicated he was open to the request. City Administrator Mike Nichols suggested the commission get the city attorney's input and discuss the matter at their next meeting.
The final phase of the project is to include improvements to the existing Paul Rockey Field.