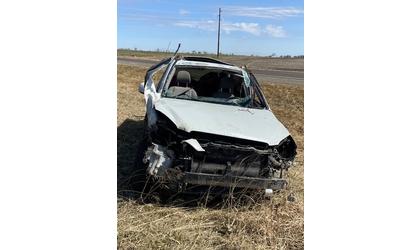 ( Credit: Brown Co Sheriff's Office)
(KNZA)--A Saturday morning single-vehicle Brown County rollover wreck claimed the life of a Horton man.
Brown County Sheriff John Merchant said the wreck was reported around 11:18 on U.S. 73 Highway near 140th Road.
Merchant said a 2007 RAV 4 driven by Catherine Martinez was northbound and had went to the shoulder of the road. Martinez overcorrected, causing the vehicle to roll numerous times. The vehicle ended up in the ditch on the west side of U.S. 73.
Both Martinez and a passenger, identified as Lincoln Brown, of Horton, were ejected.
They were later transported by Lifestar helicopters to the University of Kansas Hospital in Kansas City.
Merchant said the Sheriff's Office was informed that Brown later died from his injuries.
He said a small child was also in the vehicle and suffered very minor injuries. Merchant said the child was properly restrained in her car seat, which most likely saved her life.
The child was transported to Amberwell Hospital, in Hiawatha, where she was treated and released to family members.
The wreck remains under investigation.