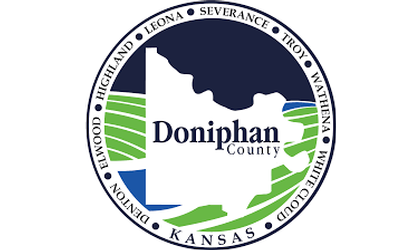 (KNZA)--Discussion, regarding a possible partnership between Doniphan County and the Iowa Tribe of Kansas and Nebraska, was opened this week, with Tribal Chairman Tim Rhodd appearing before the Doniphan County Commission during Monday's meeting.
The possible partnership would include maintenance, such as asphalt overlay of roads within nine-miles of the Reservation.
During his presentation, Rhodd told the Commission the Tribe has available federal funding, through the Bureau of Indian Affairs, to improve access roads and infrastructure leading to reservation land; and, while the Tribe does not want to take ownership of the roads, they would assist the County in maintaining them.
According to the unofficial minutes for Monday's meeting, County Attorney Charles Baskins will work with legal counsel for the Tribe on drafting road maintenance agreements between the two parties.
Additionally, discussion was also held during Monday's meeting regarding a partnership to repair erosion along 325th Road.
Rhodd also told the Commission that the Tribe had additional resources that could benefit both the County, and the community on a whole, and expressed an interest in assisting with projects including, but not limited to, ambulance service in the northern portion of the County, broadband expansion, and applying for tourism grants to upgrade the Four State Lookout, located in White Cloud, and currently listed as one of the 8 Wonders of Kansas.
Following his presentation, the Commission voiced thanks for the proposed assistance, and expressed an interest in partnering with the Tribe moving forward.
No official action was taken, with the matter likely to be explored further at future meetings.