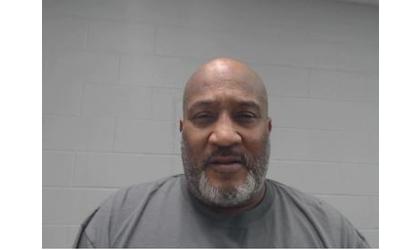 Leodis Byers, Jr. ( Credit: Atchison Co Sheriff's Office)
(KAIR)--An Atchison man is facing charges after allegedly firing a gun during a weekend disturbance in Atchison.
According to a report from Atchison Police Chief Mike Wilson, 60-year-old Leodis Byers, Jr. was arrested Saturday for aggravated assault, battery, and unlawful discharge of a firearm in the 200 block of Green Tree Road.
Following his arrest, Byers was booked into the Atchison County Jail.
Wilson, the in release, explains that at 3:00 Saturday morning, officers responded to a disturbance with shots being fired behind the residence where the disturbance had occurred. Witnesses in front of the residence told police shots had been fired inside the residence, and then continued outside, with Byers then located and arrested.
The investigation alleges that with several people inside Byers' residence, a disturbance occurred "and the suspect fired multiple rounds from several firearms."
Although no one was hurt during the shooting, a 32-year-reported being the victim of battery and aggravated assault during the disturbance but did not require medical care.
According to Wilson, police recovered several firearms at the residence.