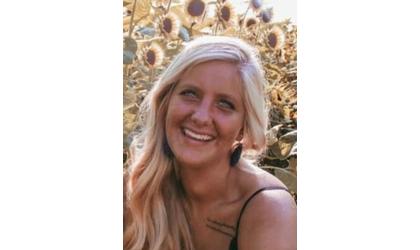 Savannah Domann ( Credit: Rupp Funeral Home)
(KNZA)--Formal charges have been filed against a St. Joseph, Missouri man in connection with a two-vehicle collision that claimed the life of a former Hiawatha woman.
KQ-2 TV reports the Buchanan County Prosecuting Attorney's Office on Tuesday charged 30-year-old Steven Ayala with felony driving while intoxicated, resulting in the death of another. Ayala appeared in a Buchanan County courthroom Wednesday.
Police say Ayala traveling in the 15-hundred block of South Belt Highway on January 14 when he drove into the opposite lane and collided with a vehicle driven by 26-year-old Savannah Domann.
Domann was pronounced dead at the scene.
Prosecutors say Ayala was operating a motor vehicle under the influence of a combination of alcohol and a controlled substance at the time of the wreck.
Domann attended school in Hiawatha for several of her younger years. She graduated from Benton High School in St. Joseph with the class of 2013.
According to her obituary from the Rupp Funeral Home, in St. Joseph, Domann and her boyfriend were expecting a baby girl in July.
Services will be Friday morning at 10:00 at the Word Of Life Church, in St. Joseph.