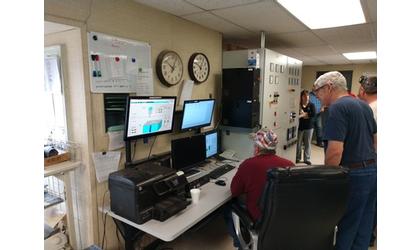 (KLZA)-- The Falls City Council approved approximately $183 thousand in upgrades to electrical generation engine #8 at the Falls City Power Plant when they met Monday evening.
Utility Superintendent Ray Luhring told the Council the engine, which was installed in 1981 and is the second newest unit at the Power Plant. It is one of three engines at the plant, meeting exhaust specs to be used.
An annunciator went out which triggers the alarm system when something is wrong with the engine. The price to replace the part is about $20 thousand.
FMI has submitted a bid to upgrade the engine to totally automate it allowing for a push-button start
and system monitoring and would automatically shut the engine down when a problem is detected.
The Falls City Board of Public Works discussed the issue and felt that since the plan is for the engine to be in service for quite a few more years, they recommended going forward with the upgrades.
Luhring also noted the proposed upgrades would be a help for those working at the power plant. He said most of the employees are pretty young, the upgrade would take a lot of the mechanical trouble shooting out of play. He said the young staff is very good with computers which will be required with the new technology.
Farabee Mechanical of Hickman, Nebraska will do the work on the engine.