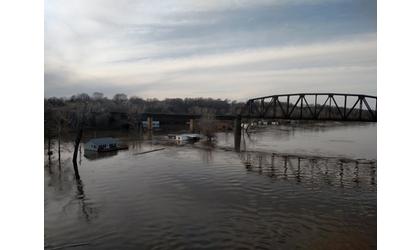 (KLZA)-- Contractors hauling heavy loads of boulders and gravel to the Burlington Northern–Santa Fe Railroad at Rulo are tearing up local roads.
During the Tuesday meeting of the Richardson County Commissioners, Highway Superintendent Steve Darveau told the Board the trouble began when Governor Pete Ricketts waived the load limits for trucks on federal and state highways.
Truckers are allowed to load their trucks as heavily as they are comfortable with in efforts to help recover from flooding. However, the declaration does not include county roads.
Darveau said truckers have been turning at the Prichard Corner six miles north of Falls City and hauling on the "Dustless Highway" to Highway 159 north of Preston then going to Rulo. He also noted damages have been done to the blacktop south of Rulo and on the road through Preston.
As many as 300 trucks per day have been hauling to Rulo and the rock is then transported by train across the railroad bridge in attempt to get the rail line open again for trains.
Darveau did say the railroad has been helpful in trying to keep the trucks off county roads.
The amount of trucks hauling rock is expected to slow down for a few days and then the hauling could ramp up again later on.