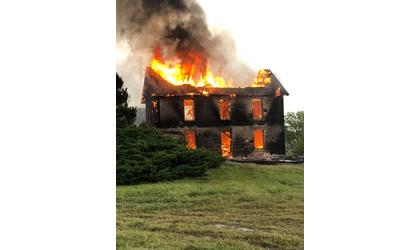 Credit: Humboldt Volunteer Fire Department
(KLZA)-- Authorities are investigating a rural Humboldt house fire over the weekend, which has been deemed suspicious.
The Humboldt Volunteer Fire Department was called to the scene of the fire about 4 miles southeast of Humboldt shortly after 5:00 Saturday afternoon.
The large two-story home was engulfed in flames when firefighters arrived.
Fire Chief Rex Kapel said the house was mainly used as a hunting lodge by its owner who lives in Kentucky. The house was currently unoccupied.
No injuries were reported.
The origin of the fire is called suspicious in nature and no other details are available. The Nebraska State Fire Marshall and the Richardson County Sheriff's Department are investigating the cause of the blaze.
.