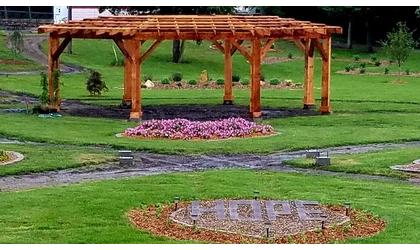 (KLZA)-- The Humboldt Lake Park is the home of the new Southeast Nebraska Cancer Memorial Garden.
Vince Riley of Humboldt is one of the volunteers working on the project as well as a fundraising effort. Riley explained during an appearance on the Community Focus Program that Janice Wilhelm had the original idea to create a place to celebrate Cancer survivors and memorialize victims of Cancer.
The intent is for the Southeast Nebraska Memorial Cancer Garden to be a place where anyone touched by Cancer can go. The project includes multiple gardens, a pergola, sidewalks, trees, bushes, a dry riverbed and eventually a water wheel. The site will be handicap accessible.
The estimated cost to complete the project is in the neighborhood of $150,000. Currently there is a Memory Brick sales project underway to help raise the needed funds. $100 donations are sought for the paver blocks. The names of loved ones or your own name if you fought Cancer can be placed on the blocks.
Pamphlets are currently available around the area for those interested in purchasing a Memory Block. Information will be available at area businesses, hospitals, churches and mortuaries.
A large-scale fundraiser is being planned for August 26th at the Richardson County Ag Building in Humboldt. The event will include food, an auction and a dance.
Riley noted that individual, corporate and business donations are all appreciated.
Donations are tax deductible through the Humboldt Community Foundation. Funds need to be designated to the Cancer Memorial Garden. For more information you can contact Vince Riley at 402-245-0859.