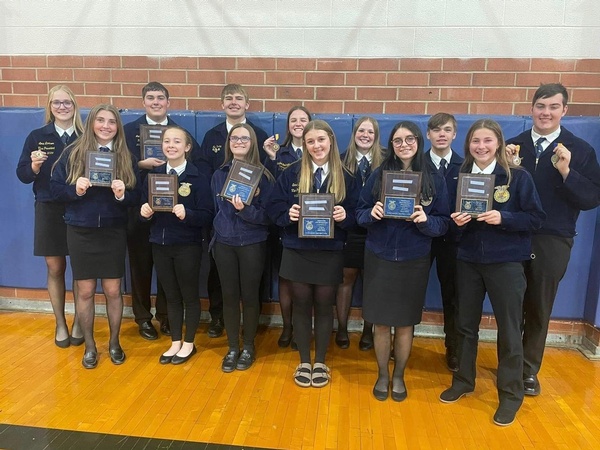 Congratulations to our members on an outstanding NE District FFA Leadership School. Today we hosted nearly 300 FFA Members and Advisors from across the district at Holton High School for 9 different FFA Leadership Development Events. A huge thanks to Ms. Clark and the Royal Valley FFA for hosting with us and everyone that provided items for the hospitality room. We couldn't have done it without great judges and also our outstanding volunteers behind the scenes: Alysse B, Elisa B, Wyatt S, and Clara L.
Awesome news: We had both Par Law teams qualify for State! Good luck to our Chapter Par Law Team and our Freshmen Conduct of Meetings Teams as they compete at the State FFA Convention next May in Manhattan.
Here are the detailed results:
Greenhand Information Test
Adalynn B- tied for 9th
Tinsley B- 8th
Addison B- 6th
Rebekah D- tied for 4th
1st place team overall
Greenhand Rituals
Master Rituals team
Lane Pruett- Treasurer
Addison Bontrager- President
2nd place rituals overall
Greenhand Par Law
1st place overall- Qualified for state
First place team overall for Greenhand division.
Chapter Leadership Information Test
Lora L- 9th
Kennedy S- 7th
Maddy B- 6th
Jacob H- 5th
2nd place overall
Chapter Rituals
4th place
Par Law Test
Addison B- tied for 9th
Jace H- tied for 5th
Noah B- tied for 5th
Maddy B- tied for 3rd
Lora L- tied for 3rd
Jacob H- 1st
1st place team overall
Chapter Parliamentary Procedure
1st overall- Qualified for state
Second place team overall for chapter division.
Congrats to Royal Valley for winning overall for the second year in a row.