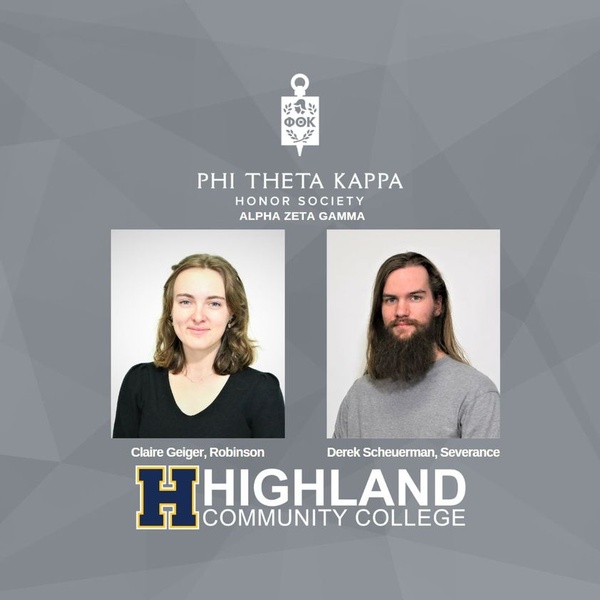 Community College's chapter of Phi Theta Kappa, has named Claire Geiger (Robinson) and Derek Scheuerman (Severance) to the All-Kansas Academic Team for 2023.
Highland Community College (HCC) President Deborah Fox will join Geiger and Scheuerman in Junction City April 14, 2023. Kansas is one of 39 states participating in the All-State Academic Team program.
Claire Geiger earned an Associate of Arts (AA) degree from Highland Community College in the Fall of 2022. Claire is the daughter of Jack and Deborah Geiger. Claire transferred to Kanas State University and is now studying agricultural communications and journalism with a secondary major in natural resources and environmental sciences. She was a member of Scottie Prints Club, a student tutor at HCC, and is a member of Phi Theta Kappa.
Derek Scheuerman is currently studying game design. He previously earned an Associate degree in Applied Science (AAS), certificates for CompTIA A+, CompTIA Security+, and CompTIA Network+. He is the son of Marty and Teresa Scheuerman. Derek plans to transfer to Wichita State University. He is a member of Phi Theta Kappa and the HCC esports team.