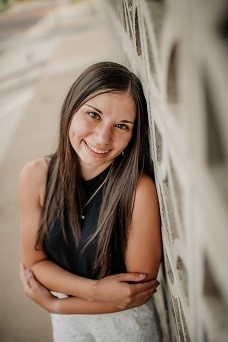 Barbara K. Vitt has been a wonderful teacher/counselor example, serving Nemaha County for decades. Mrs. Vitt said that in all of her teaching/counseling jobs she felt as if she were working in a little piece of paradise. The students with whom she worked were considerate, hard-working, and respectful. Her colleagues, the administrators, and the school boards were wonderful. Best of all, the parents of her students valued education, expected their children's best efforts, and were supportive of the school and the teachers. If she had it to do over again, she would not hesitate.
Her dedication and commitment to teaching is exemplary. Thanks to a very generous anonymous donor, three $1,500 Barbara K. Vitt Scholarships will be available to Nemaha County students annually. The first scholarship recipients are Ellie Mady and Madison Lortscher of Nemaha Central High School, and Carson Cross of Centralia High School.
Ellie Mady is the daughter of Matthew and Jill Mady and plans to attend University of Nebraska-Lincoln majoring in elementary education. Madison Lortscher is the daughter of Brent and Linda Lortscher and plans to attend Kansas State University majoring in elementary education. Carson Cross is the son of Robert and Lynda Cross and plans to attend Kansas State University majoring in biology/pre-med.