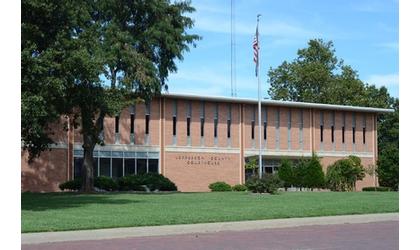 The Jefferson County, KS Courthouse/Credit: Facebook
(KAIR)--A group of 8 from the Valley Falls area took their concerns regarding the condition of various roads in their area to the Jefferson County Commission this week.
According to the unofficial minutes of Monday- Commission meeting, Valley Falls resident Kendle Beecham addressed the Commission, presenting pictures of problems with the roads, as well as receipts for damage to various vehicles and trailers.
Others residents, David Church and John Clare, also addressed the Commission, with both speaking in regards to the condition of the roads, with the group collectively voicing unhappiness with the performance of the road grader in their area.
Following the voicing of the concerns, the Commission, by consensus, indicated they will consider the information provided to see what can be done.
Beecham will be informed of the decision.