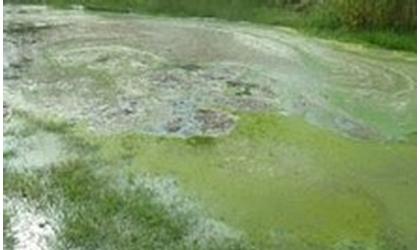 Photo of blue green algae in Kansas courtesy of the KDHE
(KAIR)--Blue-green algae at a local lake leads to state officials placing it under a warning status.
According to a joint release from the Kansas Department of Health and Environment and the Kansas Department of Wildlife and Parks, Elkhorn Lake, located in Jackson County, was placed on the warning status list Thursday. That's due to harmful blue-green algae blooms found at the lake, with the toxins, according to the release, potentially being absorbed by ingestion, inhalation of aerosols, and even skin contact. Symptoms range from a rash and headache to vomiting and fever.
The release explains that the warning status "indicates that conditions are unsafe for human and pet exposure," meaning that "contact with the waterbody should be avoided."