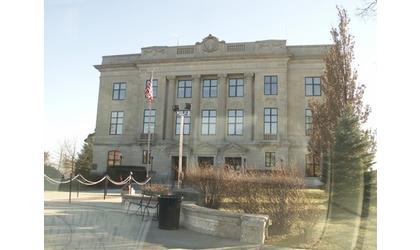 Brown County Courthouse
(KNZA)--Several Brown county residents met with the Brown County Commission Monday to voice their safety concerns about a road intersection.
Rodney Lierz said the intersection of 170th and Goldfinch Roads, southwest of Powhattan, has been the scene of three fatality wrecks-- including a wreck he was involved in on April 5 that claimed the lives of a rural Horton woman and her 10-year-old son.
Lierz' 17-year-old daughter, Darcy, describes a close call she had at the intersection less than a week ago after a semi pulled out in front of her.
Lierz said there is currently no " stop ahead" sign posted on Goldfinch Road for motorists coming from the south and that would be one of the easiest things to fix.
Other options were suggested to address the safety concerns.
Commissioner Rich Lehmkuhl said he believes a " stop ahead" sign could be installed, but any additional measures would require a Kansas Department of Transportation study.
Commission Chairman Lamar Shoemaker said the commission would look into what they can do