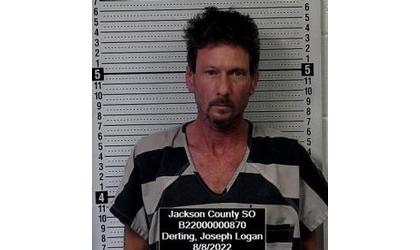 Joseph Derting/Credit: Jackson Co Sheriff
(KAIR)--A Texas man, traveling through Jackson County, now faces drug and weapon-related charges in that jurisdiction.
According to Jackson County Sheriff Tim Morse, a Deputy stopped a pickup truck for a traffic infraction in the 200 block of Holton's Arizona Street, around 1:00 Monday morning. That followed an earlier report received by the Sheriff's Office that the pickup truck was driving erratically.
The following investigation led to the arrest of the pickup's driver, identified in a release from Morse as 46-year-old Joseph Derting, of North Richland Hills, Texas.
He was taken into custody on charges for possession of methamphetamine, possession of drug paraphernalia, criminal possession of a weapon, driving under the influence, transporting an open container, and driving without a valid license.
Following his arrest, Derting was booked into the Jackson County Jail.