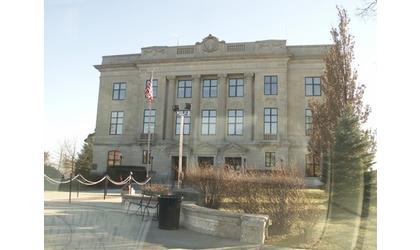 Brown County Courthouse
(KNZA)--A Brown County Commissioner this week continued his push for the removal of the Brown Country Courthouse security check and for residents to be allowed to carry firearms within the building.
Commissioner Bill Pollock brought up the issue as the Brown County Commission was wrapping up their regular meeting Monday.
Currently, with weapons prohibited from being carried into the courthouse, those who enter must pass through a metal detector, as a security guard is stationed at the entrance.
Reading from a statement, Pollock made a motion that the " NO GUNS ALLOWED" signage be removed from the courthouse doors and the security guard be allowed to be mobile or be in the location where he feels he is most needed at any given time.
Pollock said that would allow citizens, whose taxes go to maintain the courthouse, the same freedom to enter the building as they do to enter nearly every other business in the county, adding that still gives employees more protection than most counties in the state provide.
His motion died due to lack of a second.
Commissioner Richard Lehmkuhl said it wasn't that simple, explaining that before a change is made, the county needs to have a policy in place on how they are going to provide security for the courts, saying that allowing the security guard to just roam the building, doesn't provide adequate security to the third floor courts.