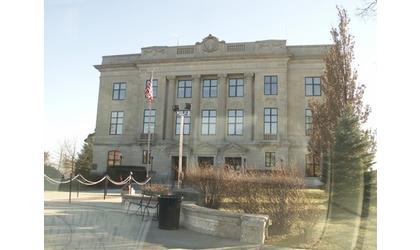 Brown County Courthouse
(KNZA)--The Brown County Commission is considering retaining an attorney to provide advice on wind energy issues.

County Attorney Kevin Hill, during Monday's meeting of the Commission, discussed an engagement letter that was forwarded to the County last week by Patrick Hughes with the Adams Jones Law Firm, in Wichita.

Hill said the proposed engagement letter inaccurately stated that the firm was engaged by the County Commissioners "to prevent the development of "windfarms" in Brown County."

He also pointed out that Hughes had reported to the commissioners that he would have a conflict of interest in representing the county on matters outside of preventing the development of wind farms.

Hill said the county has not voted to oppose wind development in the county and had instead voiced their interest in retaining an attorney with expertise in wind energy who could advise the county on all sides of the issues pertaining to the matter.

He recommended that the commission seek legal counsel from someone who could advise the County on all sides of the wind energy issue, and act in best interest of the county without a conflict of interest.

Hughes attended a portion of the meeting via Zoom and clarified the services that his firm could offer in addition to the limits contained in his original engagement letter.

Hughes said he will revise and resubmit an engagement letter to the county for the commission's consideration.