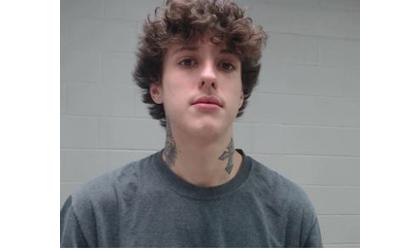 Landen Williams (Credit: Atchison Co Sheriff's Office)
A 20-year-old Atchison man is facing charges in connection with a robbery last month that sent another man to the hospital.
According to a report from Atchison Police Chief Mike Wilson, Landen Williams was arrested Tuesday on an Atchison County District Court Warrant for aggravated robbery, aggravated battery, and theft.
Wilson, in the report, says William's arrest stems from a July 7 robbery that occurred during the afternoon outside a residence in the 700 block of Washington Street.
According to Wilson, a 51-year-old man reported to police that "he was confronted by individuals who were known to him" who demanded his money, punched him in the face repeatedly, stole his wallet, and then fled.
Wilson says "the victim was taken to the hospital by private vehicle for treatment of injuries."
Williams was taken into custody Tuesday morning in the 700 block of Kansas Avenue and booked into the Atchison County Jail.
His bond is set at $100,000.