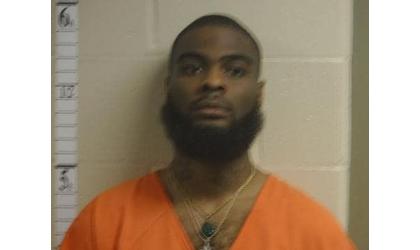 Davionne Starks-Briggs ( Credit: Richardson Co Sheriff's Office)
(KNZA)--A Nebraska fugitive is in custody following a two-state pursuit late Saturday night.
Jackson County Sheriff Tim Morse said a Holton Police officer stopped a 2015 Dodge Durango for a traffic infraction in the 400 Block of Arizona Street in Holton shortly before 11:00 Saturday night. The suspect vehicle stopped in a nearby Casey's parking lot.
Morse said it was discovered that the driver, 23-year-old Davionne Starks-Briggs, of Houston, Texas, was wanted in Nebraska on a felony warrant for roberry. He was to be considered armed and dangerous.
The Holton Police officer attempted to arrest Starks-Briggs when he allegedly fled in his vehicle striking the Holton Police vehicle.
Jackson County deputies entered into the pursuit with Holton Police north of Holton on U.S Highway 75. The pursuit continued into Brown County and into Nebraska.
Morse said several law enforcement agencies attempted to use tire deflation devices to stop the pursuit, however, the pursuit continued through Dawson, Nebraska and then east to Fall City.
Just north of Fall City, Briggs-Starks vehicle left the highway and went into a ditch. He fled the vehicle on foot and headed into a field. He was taken into custody about 200 yards from where the vehicle pursuit ended.
Deputies from Brown County and Richardson County, Nebraska assisted.
Starks-Briggs was booked into the Richardson County Jail.
According to the Richardson County Sheriff's Office, he was booked into jail on charges of operating a motor vehicle to avoid arrest, willful reckless driving, driving under suspension, resisting arrest, possession of a deadly weapon by a prohibited person. In addition, he is also being held on Lancaster County and Douglas County, Nebraska warrants.