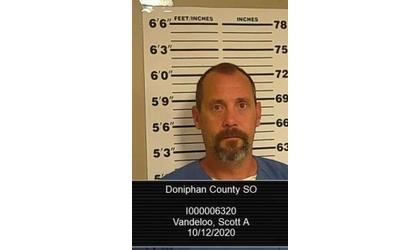 Scott Vandeloo ( Credit: Doniphan Co Sheriff's Office)
(KNZA)--The arraignment for one of three Atchison men charged in a fatal 2019 Doniphan County fight has been pushed back again.
The arraignment for Scott Vandeloo, which had been scheduled for Wednesday in Doniphan County District Court, was postponed to March 3.
Vandeloo, along with Matthew "Cole" Scherer and Brian Spilman, Jr. are charged with second-degree murder in the beating death of 42-year-old Jason Pantle, of Cummings.
Authorities allege the trio engaged in altercations with Pantle during a September 29, 2019 party in southern Doniphan County. Pantle died seven days later at a Kansas City hospital after suffering what investigators called serious head injuries.
Scherer is scheduled for arraignment January 27, while a pre-trial conference for Spilman is now set for March 3.
Vandeloo remains held in the Doniphan County Jail without bond, while Scherer and Spilman are currently free on bond.