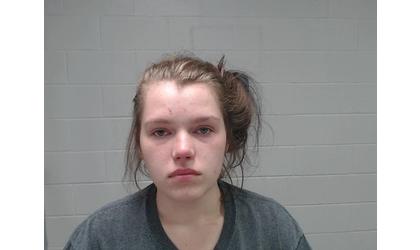 Ciara Swenson/Credit: Atchison Co Sheriff's Office
(KAIR)--An Atchison woman is facing drug charges following an investigation into the sale of methamphetamine.
According to a release from Atchison County Sheriff Jack Laurie, Ciara Swenson was arrested Thursday in the 300 block of Atchison's Laramie Street.
She was taken into custody on an Atchison County District Court Warrant for distribution of methamphetamine within 1,000 feet of a school and use of a telecommunication facility in the distribution of a controlled substance.
According to Laurie, the arrest follows a June investigation when deputies purchased what's alleged to be methamphetamine from Swenson.
Following her arrest, Swenson was booked into the Atchison County Jail.
Her bond is set at $100,000.