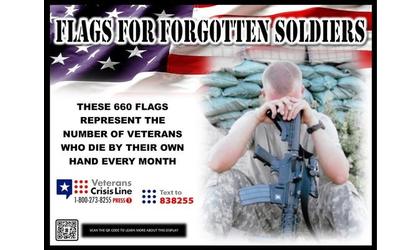 Credit: Facebook
(KNZA)--A special display to raise awareness about the ongoing tragedy of veteran suicides is coming to Hiawatha.
Hiawatha Chamber and Visitors Bureau Board Vice-President Joey May told the City Commission Monday evening that the Chamber was approached by St. Joseph resident David Brown with the Flags for Forgotten Soldiers organization about setting up the display in the city—the first location in Kansas for the honor.
May said the display would consist of 660 flags, along with banners. The flags represent the number of veterans who die each month due to suicides.
May said the Chamber would like to set up the display in the area to the south of the skate park in the valley leading up to the Kiddie Corral. She said the Chamber wanted to coincide the display with the city's 4th of July event.
The flags would be set up the morning of Saturday, June 29 and be up about a month.
The Commission gave their approval.
May also presented a $2,500 check to the city for the 2019 fireworks display, which is to be held July 3.
The Commission approved allowing the Chamber to set up a tent that evening near the Skate Park/Aquatic Center. May said they plan to pass out free water, glow in the dark bracelets and basic information about the city. A face painter will also be on hand and the community jazz band will be playing near the tent.