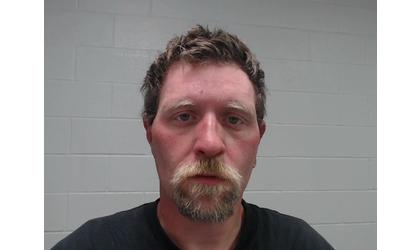 Russell Sullivan, Jr./Credit: Atchison Co Sheriff's Office
(KAIR)--Although the purchases were small, a 34-year-old Atchison man is facing numerous charges in connection with the alleged use of a financial card belonging to someone else.
Atchison Police Chief Mike Wilson told MSC News Russell Sullivan, Jr. was arrested Friday.
That follows a brief investigation that came after an 18-year-old lost her card, and reported that it had been fraudulently used Friday at three Atchison businesses.
Wilson said the card had been used a total of five times with the amount of money spent less than $200.
Sullivan was arrested Friday when he returned to one of the stores where he had allegedly used the card.
He now faces charges of theft, criminal use of a financial card, and computer crime.
He is also accused of a Walmart theft.
Following his arrest, Sullivan was booked into the Atchison County Jail.
Bond is set at $1,500.