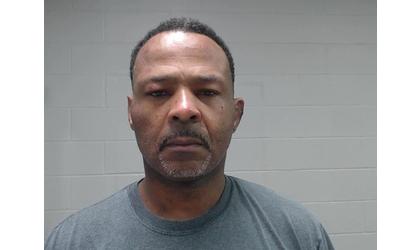 Dale Birch/Credit: Atchison Co Sheriff's Office
(KAIR)--An alleged attempt to break into an Atchison home sends an Atchison man to jail.
Atchison Police Chief Mike Wilson told MSC News 50-year-old Dale Birch was taken into custody Tuesday morning after causing damage to a window and a door during his alleged forced entry attempt. "7:00 on Tuesday morning, officers responded to a residence in the 500 block of North 10th to investigate a person trying to break into a residence. When the officers arrived on the scene, a subject was found outside the residence who fled on foot from the officers. A foot pursuit ensued, but the subject was apprehended several blocks away in the 900 block of Laramie."
Wilson said Birch did not surrender peacefully. "[When} he was apprehended...a struggle occurred with an officer. He was kicking and striking at the officer during that arrest, as well as resisting arrest."
According to Wilson, Birch was not unknown to the residents of the home. "The investigation did determine that he was acquainted with the people inside. He knew them, they knew him. When he tried to get in, they wouldn't let him in and they called the police."
Birch was taken into custody on charges of criminal damage to property, battery on a law enforcement officer, interference with law enforcement, possession of marijuana and drug paraphernalia, and District and Municipal Court warrants for
failure to appear in court.
Following his arrest, Birch was booked into the Atchison County Jail.