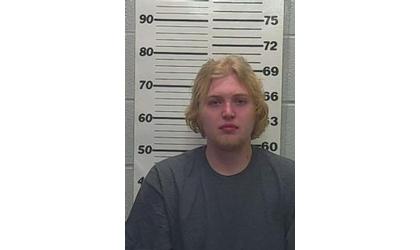 Joseph Widner/Credit: Atchison Co Sheriff's Office
(KAIR)--A verbal altercation between two roommates turns violent, leading to the stabbing of a puppy.
That's the scenario outlined by Atchison Police Chief Mike Wilson who told MSC News 25-year-old Joseph Widner, of Atchison, is now in custody in connection with Saturday's alleged attack. "It was about 4:30 on Saturday morning when officers responded to a disturbance in the 1000 block of Ash where a 24-year-old male reported being struck in the face multiple times by a 25-year-old suspect. That same suspect took his anger from the disturbance out on a 16-week-old puppy that was owned by the victim who was at the scene, and the suspect stabbed the puppy during the disturbance."
Wilson said that while the young Husky is expected to survive, it was a difficult scene for the officers who responded. "He was stabbed with a large kitchen knife. He was taken to a veterinarian and treated and will recover. The officers that were involved, who are used to dealing with disturbances, were all affected by the situation of an innocent puppy [having] this aggression and this anger taken out on [him]. They said [the puppy] was very young, very passive."
The man who police say was struck in the face did not require hospital treatment for his injuries.
Widner was taken into custody on charges of battery and cruelty to an animal.
Following his arrest, he was booked into the Atchison County Jail.
Widner has since been released on a $10,000 bond.