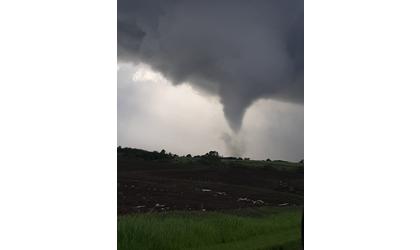 An Atchison County tornado, north of Effingham, at Hwy 159 and Edwards Rd, Tuesday evening, May 21, 2019. (Credit: Atchison County Sheriff's Office)
(KLZA)-- This is Severe Weather Awareness Week in Nebraska.
A statewide tornado safety drill is planned for 10:00 a.m. Wednesday.
2021 brought unique weather to all portions of Nebraska from tornado outbreaks and dust storms to tornado warnings and snow squall warnings on the same day.
The National Weather Service urges everyone to take time this week to review and practice your severe weather plan for your home and office.
If you don't have a plan, this is a great time to consider developing one and sharing it with others.
Preparing an emergency kit with basic supplies such as food, water, blankets and a flashlight can save precious time when reacting to an actual event.
Tornadoes reported in Nebraska in 2021 were down slightly from the 30-year average of 51. OF the 44 tornadoes reported, more than half of the storms occurred on either May 26 or December 15.
The National Weather Service reminds you that a WATCH means to be prepared. The watch should give you hours to be get prepared and you should monitor sky conditions and know where to take shelter if need be.
A WARNING means take action, severe weather is in the area and is imminent. You should take shelter immediately. You should continue to check for forecast updates, as conditions can change rapidly.