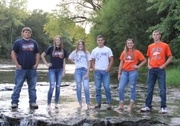 Pictured are the candidates: Cooper Clark, Jaiden Taylor, Annaka Haynes, Michael Lackey, Sydney Smith, and Creighton Johnson. Credit for photo Marla Taylor.
September 12, 2021
It is homecoming week for the DWHS Mustangs and it is packed with activities. The overall theme for homecoming is Dancing Through the Decades, and each day of the week has a certain dress up day and decade-related lunchtime game.
On Wednesday evening, the girls get to play powder puff flag football, and then a bonfire is scheduled for Thursday night.
On Friday, the high school students compete in class competitions and decorate floats for the parade and pep rally that begins at 2 p.m.
The homecoming king and queen will be crowned during half time of the football game against Johnson-Brock.
The festivities end with a dance on Saturday night from 8-11 p.m.
#MustangPride