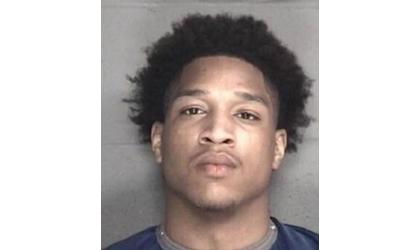 Jaylen Johnson ( Credit: Leavenworth Co Sheriff's Office)
(KAIR)--A Kansas City, Kansas man, accused of the 2021 Leavenworth shooting death of a 12-year-old, has been convicted on related charges.
According to Leavenworth County Attorney Todd Thompson, 18-year-old Jaylen LaRon Johnson was convicted in Leavenworth County District Court Tuesday of one count of first degree murder, one count of criminal discharge of a firearm at an occupied vehicle causing great bodily harm, one count of criminal discharge of a firearm into an occupied vehicle, and one count of criminal possession of a firearm by a convicted felon.
Johnson faces life in prison when he's sentenced June 17.
Thompson, in the release, explains that Johnson's crimes were committed April 14, 2021, when Johnson and a friend, Darvon Thomas, as well as a third person, drove to Leavenworth's Kare Pharmacy to buy a handgun, having previously arranged to meet the sellers at the pharmacy location.
After the gun was purchased for $400 by the unnamed third person, it was realized it was only a BB gun, and that person shouted at Johnson and Thomas to let them know. With the sellers attempting to leave the pharmacy parking lot, Johnson stepped out of Thomas' car and "began firing a .45 caliber Glock 30 handgun at the fleeing vehicle, which was struck in the rear of the car 11-times."
A 12-year-old passenger in the vehicle's right rear passenger seat was struck several times. Taken to Children's Mercy Hospital in Kansas City, Missouri, the child was pronounced dead.
Thomas, of Leavenworth, was convicted in February for second degree murder, and sentenced in early March to 16-years-8-months in prison.